Go Co-op and Buy Farmers Market Fresh
more resources
Share This:
There's nothing like the smell of a freshly baked squash casserole smothered in cheese. Actually, the only thing better is if you either grew the squash yourself or bought it from the Golden Spread Farmers Market.
"The farmers market is a cooperative of Panhandle area farmers, and they have to grow whatever they sell," says market president Ronnie Kimbrell. "Each farmer is allowed to grow how they see fit, but they can only sell what they actually grow on their farm."
The Texas-certified Farmers Market began 24 years ago as a co-op when a group of farmers got to talking about bringing produce to Amarillo. Ronnie got involved in 1999, a year after he started his own small farm and decided to sell tomatoes in a stall at market. He went on to add cantaloupe, green beans and black-eyed peas the following year, and by 2000, Ronnie was selected as Vice President of the market.
"I worked at a Whole Foods in Dallas and became interested in organic food there. I wanted the best and dreamt of having my own farm," he recalls. "I started researching in 1992 and was pretty much self-taught."
Ronnie served as vice president until 2002 when he suffered a spinal cord injury. His passion for organic produce and the farmers market remained, and Ronnie went back to farming and back to the market, this time serving as president.
"I'm in charge of promotion, advertising, securing the lot space, and answering consumer questions via phone and internet," he says. "I usually go to the market on Saturdays."
The Golden Spread Farmers Market begins on July 1 and will remain open until the first freeze, which in years past has been as late as October. It's open for business at 7 a.m. on Tuesdays, Thursdays, and Saturdays, and closes when each farmer sells the remainder of his or her produce. The market is currently held in the Sunset Center parking lot on Plains Blvd.
In the height of the season, usually from mid-July through August, there are anywhere from 20 to 25 farmers selling a selection of corn, tomatoes, summer squash, cucumbers, eggplant, peppers, lettuce, potatoes, onions, watermelon, raspberries, apples and more.
According to the U.S. Department of Agriculture, there has been a growing demand for fresh, organic produce nationwide since the early 90s. Farmers markets allow consumers access to the freshest local fruits and veggies from crop to countertop, as well as the ability to develop a personal relationship between each farmer and his customers. Today, there are more than 4,600 working markets around the country.
"If a farmer wants to participate, they call me and we come out to inspect their farm to make sure they're growing what they want to sell," he explains. "It's a $100 membership fee for the year, plus a small stall fee each time they come, so we need to make sure they're growing enough to make it worthwhile. And we have costs as well, but we're a non-profit and everything we make goes right back into the market for next year."
Board membership is volunteer-based, as is much of the behind-the-scenes work on market day. Venita Carter is just one of the many who started out as a market shopper and decided to start volunteering.
"I started going to the farmers market five years ago just as a customer," says the Vega native. "I was raised on a farm, so I appreciate that life. My dad was a wheat farmer and my mom kept a garden. I used sit in her garden as a child eating cherry tomatoes."
It wasn't long before Venita wanted to do more than shop at the farmers market, so she started volunteering, helping two ladies at their stalls sell flowers and produce. After developing a relationship with many of the farmers, and getting questions from customers on what to make with their new groceries, Venita decided to compile a cookbook.
"I nagged farmers for recipes, got some from customers, and then added a lot of my own family recipes," she says. "I worked on it nearly every evening during the winter of 2006. There's a lot of practical information in there as well, so I'm really proud of it."
As the youngest of three girls, Venita didn't grow up cooking but rather taught herself over the years by trial and error. She's included many of her favorite dishes in the cookbook, namely her Chicken Lasagne, Chile Rellenos and South of the Border Squash Casserole.
"I call myself an advocate of the farmers market," she says. "I just love it."
Starting this month, the market website will go live with new and updated information about what produce is on sale each day, information about each farmer and what they sell, as well as information about joining the co-op.
However, you can always stroll down to the Sunset Center on an early morning and check out the market for yourself. Bring a basket and pick up a cookbook while you're there.
Farmers Market Fresh Recipes

Green Bean Salad
1 lb. cooked green beans
1 cup green peas
1 cup red bell pepper, chopped
1 jar pimentos
2 ears corn, removed from cob
1 cup chopped celery
1/2 onion, chopped
3/ 4 cup sugar
1 3/4 cup vinegar
1/2 cup oil
salt and pepper to taste

Heat vegetables thoroughly. In another saucepan, mix sugar, vinegar and oil. Bring to a boil, and pour over the remaining ingredients. Refrigerate 24 hours before serving.

South of the Border Squash
4 medium yellow squash, chopped
1 medium onion, chopped
2 Anaheim peppers, roasted and chopped
2 tablespoons flour
2 tablespoons butter
1 teaspoon salt
1 egg, beaten
1 cup cottage cheese
1 1/2 cups Monterey Jack Cheese, grated
1/ 2 cup Parmesan cheese
pepper to taste

Preheat oven to 400 degrees. Sauté squash, onion and butter in a skillet until crisp-tender. Add chilies, flour, salt and pepper; stir. Pour into a baking dish. In a mixing bowl, combine egg and cottage cheese. Mix well and pour over squash mixture. Sprinkle Monterey Jack and Parmesan cheese over top. Bake for 30 minutes.

Microwave directions: Combine the squash, onion and butter in a microwave safe
2-quart baking dish. Microwave on high for 4 minutes. Follow the above directions, then microwave on high, uncovered for 7-8 minutes.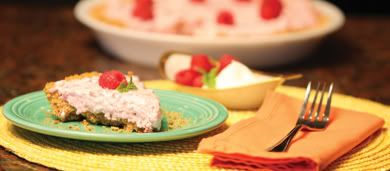 Raspberry Bavarian Cream Pie
1 1/2 cups crushed graham crackers
2 containers of raspberries
1 cup plus 3 tablespoons sugar
1/3 cup melted butter
2 teaspoons gelatin
6 tablespoons water
1 cup whipping cream

Preheat oven to 350 degrees. Mix crumbs, 3 tablespoons of the sugar, and butter. Press mixture firmly and evenly against bottom and sides of pie pan. Bake 10 minutes. Crush raspberries and add 1 cup sugar and let stand for 30 minutes. Soak gelatin in 3 tablespoons of water. Dissolve it into 3 tablespoons of boiling water. Stir this into the berries. Cool the gelatin. When it is about to set, whip and fold in 1 cup whipping cream. Pour into crust and chill until served.

blog comments powered by

Disqus